There are many Amusement Parks in Dhaka where people can visit with their family. Visit the top amusement parks in Dhaka.
Top Amusement Parks in Dhaka 2023
Dhaka Shishu Park (Shahbag)
Dhaka Shishu Park was the first children's amusement park in Bangladesh. It was established in 1979 in a vast 15-acre area. Dhaka Shishu Park includes several fun rides, such as a wheel train, a merry-go-round, and several wheel-based rides.
According to the Winter Season Schedule (October to March), Dhaka Shishu Park is open from 1 pm to 7 pm on Monday, Tuesday, Thursday, and Saturday. On Friday, the visiting hours are 2 pm to 8 pm. On Wednesday, this place is open only for the poor and street children from 2 pm to 5 pm. On Sunday, Dhaka Shishu Park remains closed.
Dhaka Shishu Park's Entry Fee is only BDT 15 per person. There are 12 types of fun rides for children. You have to spend BDT 10 per person for each ride. Besides these, there are four rides owned by private companies that cost BDT 25 per ticket. Shishu Park is located near Shahbag Foot Over Bridge.
Dhaka Shishu Park remain closed for more than 10 years.
Fantasy Kingdom Complex (Ashulia)
If you are looking for an amazing destination for a family day out, put the Fantasy Kingdom Complex on your list! Concord group inaugurated the Fantasy Kingdom theme park on February 19, 2002. This place attracts a huge number of people every day.
The Fantasy Kingdom offers a bunch of thrilling rides and innovative fun activities for both children and adults. The most popular amusement activities of Fantasy Kingdom include the huge video game arcade, 1,500 feet roller coaster, Arabian flying carpet, large flume ride, racehorses, Santamaria Viking ship, and crazy bumps. Here children and family members can enjoy and get entertained without being scared.
The Fantasy Kingdom stands beside the Dhaka-Ashulia bypass road. This place is about 30km away from Dhaka city on the way to Savar and not too far from the Dhaka Shahjalal International Airport. This place is open every day of the week. The visiting time is from 11 am to 9 pm every day. On government holidays, this place stays open from 10 am to 10 pm.
It takes around 1-2 hours to go there from Dhaka.
Nandan Park (Savar)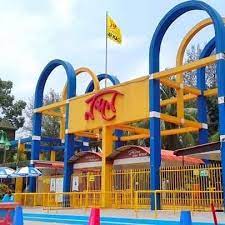 Nandan Park is one of the most popular family amusement parks in the country. It started its journey on Oct 3, 2003. The fun rides and amusement activities of Nandan Park include Water Coaster, 5D Cinema Theater, Musical Dancing Fountain, Cable Car, Tilt-A-Whirl, Ice-Land, and Wave pool. Furthermore, the "Water World" of Nandan Park was inaugurated in May 2004. In the Water Park, you get eight additional rides. This park is specially designed for the family day out programs.
Nandan Park is located at Baroipara, on the way from Nabinagar to Chandra Highway in Savar. This place remains open every day. The visiting time is from 10 am to 8 pm.
Here the entry and 2 dry park rides cost BDT 295 per ticket. The entry and 10 dry park ride combined cost BDT 295 per ticket. If you want to visit the water world, then pick the entry, with 10 dry park rides and the water world package that costs BDT 650 per person. And, the entry and Water World package charges about BDT 550.
It takes almost 2 hours to get there from the centre of Dhaka.
Jamuna Amusement Park (Pragati Sharani)
The Jamuna Amusement Park is a part of the Future Park complex located on the Pragati Sharani at Kuril, in Baridhara. This place can be accessed by the Kuril Flyover from both directions of the Airport Road.
Jamuna Amusement Park is famous for thrilling rides like a pirate ship, roller coaster, tower challenger, sky drive, magic windmill, flying disco, etc. Besides these, the fifth floor of Jamuna shopping mall has an entertainment zone that includes Food Court, Restaurants, Players Zone, and Blockbuster Cinemas, etc. Here all the family members, especially children can have lots of fun.
In the Jamuna Amusement Park, the entry fee is BDT 50 per person. Per ticket for a Roller Coaster ride costs about BDT 300. For other rides, you have to pay BDT 150 per person. You can also choose combined packages to enjoy multiple rides that cost about BDT 750 per person. The Jamuna Amusement Park remains open Saturday to Thursday from 3 pm to 8 pm. On Friday, the visiting hour is 3 pm to 9 pm. On Wednesday, both the Jamuna Shopping Mall as well as the Jamuna Amusement Park remain closed.
N.B Jamuna Amusement Park has been closed for more than 4 years due to too much thrilling rides and accidents.
Dream World Amusement Park (Jhauchor, Hazaribagh)
Dream World Amusement Park was launched on 20 June 2023 in Jhauchor Road, Hazaribagh Dhaka. The Park is built on 45 Katha Land with a Dry Park and Water Park. The Dry Park consists of 15 Rides like, Merry go round, Roller Coaster, Swing Chair, Bull Ride, Scary House, Cup Ride, Tornado, Family Train, Cable Car, Inflatables and more. The Water Park consists of 2 Large Pools for Adults and 1 Kids Pool. The Park also has an Indoor Zone for kids activities and a Food Court with Multiple shops. This park is located only 15 mins away from Satmasjid Road, Dhanmondi.
Find the ticket prices about Dream World Park here.